I have written about lights before---this is something I know. The fact remains, however, that there seems to be an interest in designing lights. During my searches, I have continued to come across lights of all different shapes and sizes that are unique and have a sense of funk to them. There seems to be a spark, no pun intended, in people that inspires different looks and I hope to present some more that I have found to you.
Lighting One: The lights presented below feel very whimsical to me. These are actually lamp shades that have a very natural feel to them. These gorgeous shades would be great in an outdoor area, as they provide a comfortable and pleasant atmosphere for any backyard.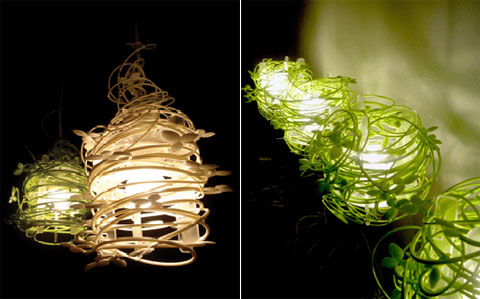 Lighting Two: Wow! These lights would be great in a big room. Imagine a continuous stream-lined wall of lights like this in a great room. I would like to see these in two different ways---I would like to see them as they are presented here against a white wall and I would like to see all of the lights turned on against a dark wall. I think these would also be great in a game room or a basement, where tons of light is usually needed.
Image Three: I am such a sucker for cute lights like this. This is absolutely adorable. Really. Anything with appendages I am a fan of but this is too cute and would be great on a desk. Of course, you'd have to have a fun, playful sense of style in your office not a serious one.
That's it for now. I didn't really have too much time to update and I know I will be talking about lighting quite a bit, considering there is so much great stuff out there. Take care, all!
christine sakariasen